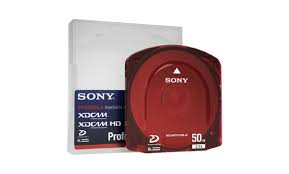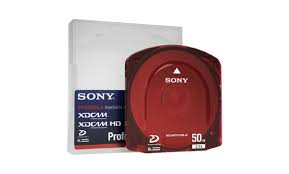 SONY PFD-50DLA XDCAM DISC
Sony Dual Layer Pre-Formatted Rewritable Optical Disc For XDCAM 95 min on MPEG HD422 (50 GB)
รายละเอียดสินค้า SONY PFD-50DLA XDCAM DISC
Sony PFD50DLA - 50G Dual Layer Disc
Sony's new Professional Disc recording media is a 5 inch (12cm) rewritable optical disc capable of recording in two layers (50GB). By achieving a track pitch of 0.32μm, with state-of-the-art manufacturing technology and by utilizing blue-laser technology, the disc media can attain high density recording more than 10 times (50GB) than that of a DVD (4.7GB) using red-laser technology.
High Transfer Rate and Long Recording Times
The specially designed, dust, shock and X-ray proof product is constructed to be compatible with the new dual optical head recording system, enabling a maximum writing transfer rate of 172 Mbps (using two optical heads) and 86 Mbps (using one optical head). The dual layer media will record approximately 190 min. of SD content in DVCAM mode at 25 Mbps and 270 min. of HD content in MPEG mode at 18 Mbps. This unique combination of extensive recording capacity and high transfer rate capability ideally positions the disc for broadcast and professional applications.
High Writing Speed for Linear Editing Capabilities
When used with the software upgrade for the PDW-1500 for new linear editing functions, the writing speed of the disc is increased to 2.4 times of the previous PFD23. These new editing functions allow the user to perform Assembly edits and Video Insert edits.
High Durability and Re-write Cycles
The Professional Disc provides the same features as standard optical formats, such as split-second random access and ENG/EFP-ready durability, which is a result of the fact that the optical head never touches the media. With both models of the Professional Disc media, you can expect a minimum of 1,000 read/write/erase cycles under specified operating conditions. And with an archival life of over 50 years, the Professional Disc is a highly durable and reliable option in recording media.
HARDWARE COMPATIBILITY

PFD23A
(Single Layer 23.3GB)
PFD50DLA - NEW
(Dual Layer 50GB)
Current XDCAM SD

OK

-

Current XDCAM HD420

OK

-

2007 Model XDCAM HD420

OK

OK

Future XDCAM HD 422

OK

OK
RECORDING TIMES
DVCAM
IMX
MPEG HD420
MPEG
HD422
Format / Transfer
Speed (Mbps)

25

50
40
30
35
25
18

50

PFD23A – 23.3GB
(Single Layer)

approx 85

50: approx. 45
40: approx. 55
30: approx. 68
35: approx. 60
25: approx. 90
18: approx. 120

approx. 43

PFD50DLA – 50GB
(Dual Layer) NEW

approx 190*

50: approx. 105*
40: approx. 126*
30: approx. 157*
35: approx. 150*
25: approx. 200*
18: approx. 270*

approx. 100
* Actual Recording Times may vary depending on factors such as bit rate mode, number of audio channels, number of video clips, etc. Specifications subject to change.